Homily Notes
The Baptism of the Lord
When Jesus entered the waters of the Jordan to be baptized by John He was setting the tone for all that would follow.
John's baptism was a baptism of repentance for sinners.
So by choosing to be baptised by John, by sharing in the baptism of sinners, Jesus deliberately put Himself among sinners as a brother – but He was (is) a brother who was (is) also the Divine Physician, the Saviour; a voice spoke from Heaven, this is my Son, the beloved.
Jesus put Himself among sinners, not to judge, not to condemn (this got him into difficulty), but to love, to attract to a better way of life, a new life, the life of God which every person can reach through repentance and conversion.
In many ways Pope Francis has chosen to walk on to the world stage in this way.
It's amazing how many people accept the first part – the liberal left are all for Jesus as our brother – but choose to ignore the call to repentance and a new way of life!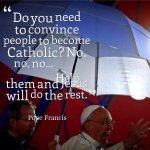 True to form, the liberal left are misunderstanding Francis (because they misunderstand Jesus) and we're witnessing the most amazing unfounded psychological projection of the liberal lefts desires on to Pope Francis.
Meanwhile, many traditionalists are a little confused.
It's like being back in the days of Jesus!